When Chargers owner
Dean Spanos got rid of head coach Marty Schottenheimer last Monday
, nobody was really surprised. The relationshiop between Schottenheimer and team G.M. A.J. Smith had deteriorated to the point where the two men were no longer speaking to each other. Schottenheimer also allowed both his offensive and defensive coordinators to interview for, and ultimately leave for head coaching positions - with the
Dolphins
and the
Cowboys
, respectively - a move that sealed Marty's fate. It's also worth mentioning that Marty's playoff record is 5-13, including this year's loss to the Patriots in the Divisional round.
Already behind the 8-ball by firing Marty when other teams had already chosen a new head coach, and knowing that they have a Super Bowl caliber roster that needs to win now if it's going to win at all, the Chargers front office set off on it's quest to bring a winning coach to San Diego. But, with the best candidates already off the market via hiring or retirement, qualified candidates were few - none with successful experience as a head coach. So, instead of hiring an upwardly mobile coordinator to his first head coaching posistion, San Diego's brain trust hired Norval Eugene Turner - a guy who has a
lifetime 58-82-1 head coaching record
first with the Washington Redskins, and later with the Oakland Raiders.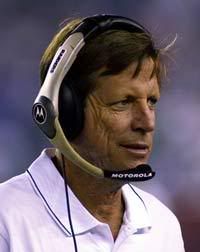 Shits pants during regular season
So, Chargers fans - you traded a guy who couldn't win in the post-season for a guy who can't even get to the post-season. Brilliant.
In fairness to Norv, the guy is an offensive genius - and has made star running backs out of Emmit Smith, Ricky Williams, LaDainian Tomlinson and Frank Gore to name a few. He just sucks ass when he's responsible for the entire team. Sometimes, probably more often than not, brilliant coordinators should remain coordinators - see

Kiffin, Monte

.